Do you need any help?
Alien entrepreneurs to worried about starting business in Japan
How to get a Business Management VISA?
Business plan for Immigration or finance
financing in Japan
Employ foreigner staff
Continental can provide solutions for you with highly capability!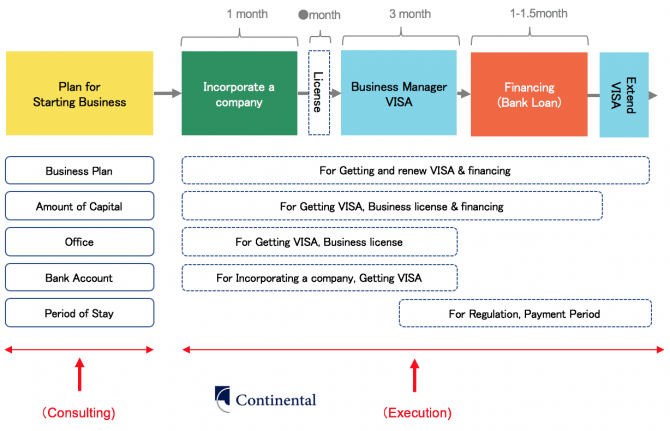 About Conrtinental Immigration Lawyer Office
Continental provide sophisticated financial consulting for starting business, negotiating a bank loan to launch a new business as well as immigration consulting (VISA Application) for foreigners.When foreigners start their business in Japan, there are many points of caution concerning regulation such as an amount of capital, office, period of stay, etc. We provide formulate plans for solving these various regulations, and we will smoothly obtain your business management visas.In addition, Continental not only gets your business management visas but also advises your business plan for success as well as financing consulting such as bank financing.
Continental Immigration Lawyer Office
Head Office:2-16-6, Akasaka, Minato-ku, Tokyo, Japan
CEO:Masakazu Murai, Immigration Lawyer, Financial Consultant
WHY HIRE CONTINENTAL
1.Hybrid Approach: Financial advisory × Immigration Law
Our strength is highly good mix (Hybrid Approach) of the financial consulting based on Investment Banking and immigration service. Foreign entrepreneurial customers, if there are concerns such as Amount of capital, office real estate, the period of stay, etc. by immigration Bureau of Japan, are able to smoothly acqire business management visa by our advice.In addition to acquiring visa, you can receive financial service for business success in Japan.We provide smooth fundraising and risk management with investment banking expertise.
Continental is one of the few offices in Japan that provides hybrid approach with financial consulting and immigration services.
2. Provide Investment Banking Expertise 
I have advised over 500 entrepreneurs and senior managements on IPO, M&A and financial strategies throughout investment banking business.
In addition to arranging fund raising of hundreds of millions dollars by global enterprises, I worked on banks to analyze the start-up venture businesses, evaluate them, and support them.
By taking advantage of these know-how, Continental can give you adequate advice on how to make a business plan for the success of your start-up project and how to view and associate financial institutions, so you will be able to procure smoother funding.
3. Accompanying towards the purpose of business success
Our common goal with our customers is the success of the startup business.To succeed your business, it is important not only to get business management visa, to acquire several business licenses, but also to finance for the start-up of business(foundation loan). Business plan for financing and risk management is also quite important.Continental will carry out projects with customers for a period of 6 months all through preparing business plan, incorporating company, getting, management management visa acquisition and start-up financing.
4. Success fee system
Continental works on a success-fee basis.Re-application is free of charge if the first application through Continental has been rejected.An immigration lawyer shall visit the immigration Bureau, identify the cause of the rejection, and discuss the solution with an officer. Then we prepare and lodge documents with perfect correction. (in some cases re-application is not possible)
5. Follow-through service
Continental's client will be informed by "Client Alert Report" when immigration system(law) is changes. And schedule management of visa will also be served from us, so you will not forget to extend your visa.Continental's clients have always 20% off from regular price when he/she request new visa.
Location
BIZMARKS Akasaka, 2-16-6 Akasaka, Minato-ku, Tokyo 107-0052, Japan
– 3 min walk from Akasaka Station(Chiyoda Line, Tokyo Metro)
– 5 min walk from Tameike Sanno Station(Ginza Line, Namboku Line, Tokyo Metro)
TEL:+81-3-6403-9897
e-mail:info@continental-immigration.com
CEO/Managing Director
Masakazu Murai
He was born in Tokyo, Japan in 1977. He joined Mitsubishi UFJ Morgan Stanley in 2000 straight out of college and have 18 years experience in Investment Banking. In an effort to solve MUFG clients' business strategy and capital strategy issues, we coverage bankers provides sophisticated advice and advanced solutions with its deep industry-specific insight and abundant expertise. By collaborating with divisions that specializes in M&As, capital-raising and such, we support the long-term enhancement of our clients' corporate value.He is specialized in areas of Financial Consulting, Immigration Consulting as an immigration lawyer.
Master of Business Administration in Entrepreneurship
(Hosei Business School)
Chartered Member of the Securities Analysts Association of Japan
Certified Financial Planner(CFP)
Certified Administrative Procedures Legal Specialist(Immigration law)
Language:日本語/English