Japan PR: Approval Rates ?

What is the approval rate for Permanent Residence in Japan, and how difficult is it to apply by Highly Skilled Professional PR Program?
PR screening has become stricter in recent years, the current permit rate is approx. 50-60%. Proving HSP scores to the immigration officer is quite confusing.

 Trends in permitting rates(Decreased to 50-60%)
The Immigration Bureau's examination guideline (Internal) states that the examination to the PR permit is the final assessment of the foreigner's stay in Japan. And therefore, it is necessary to examine them very strictly.
MOJ (法務省) data shows that the PR permit rate, which was over 70% in 2015, is trending downward and is 51.7% in 2020.The statistics indicate that the PR screening process is becoming more difficult.The PR guidelines were revised in 2019 and include more items for review. Although COVID 19 had an impact on Japan, Continental believes that the most recent permit rate (2022) has not changed much.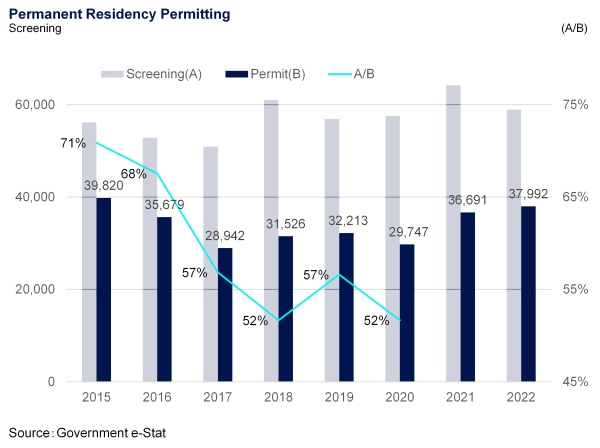 PR Approval rate Source:MOJ(法務省)
2015 Screening:56,182、Permit:39,820(Rate of Permit:70.9%)
2016 Screening:52,819、Permit:35,679(Ditto:67.5%)
2017 Screening:50,907、Permit:28,924(Ditto:56.9%)
2018 Screening:61,027、Permit:31,526(Ditto:51.7%)
2019 Screening:56,902、Permit:32,213(Ditto:56.6%)
2020 Screening:57,570、Permit:29,747(Ditto:51.7%)
 Reasons why PR is not permitted
In the cases of denied cases, the reasons for denial can be roughly classified into (1) failure to meet PR requirements (the applicant does not know) and (2) insufficient explanation or proof to the immigration inspector.
(1) If you do not meet the PR requirements, you must take the time to meet the requirements. This is required by immigration law and rules.
However, (2) if the explanation or proof to the immigration officer seems inadequate, you could have been approved if you had carefully prepared for the expected issues.
For example, the applicant who was not approved only submitted the documents listed on the website and did not provide the necessary explanation or proof of the situation.
 How to get ?
We believe that the approval rate is significantly different between an application filed by an immigration lawyer and one filed by the applicant himself/herself after hearing from his/her friends.
Why? If you apply for PR by yourself, your approval rate may be below average. We are often asked, "My friend got the PR permit, but why didn't I?"
Your friends and you may have different educational backgrounds, work histories, incomes, families, and residency statuses. And the time you applied for PR, the regional immigration office where you applied, and the immigration officer assigned to your case may be different.
Because the situations are different and the Immigration Officers also differ, the results can often vary. In addition, PR applications for business owners, self-employed persons, and those using the HSP-PR program are more complicated.
Your PR application will take about a year from preparation to approval. During this time, you may want to change jobs, buy your own house, or start your own business. To obtain your PR permit as quickly and reliably as possible, we recommend that you consult with your immigration lawyer.
Continental Advisory
Continental offers initial evaluation services to assess various aspects of the your situation to determine if your PR application will be approved. Please contact us TODAY.
Professional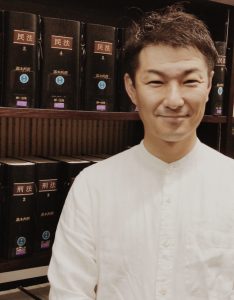 Masakazu Murai
18 years experience in Investment Banking at Mitsubishi UFJ Morgan Stanley(JV, MUFG Bank and Morgan Stanley). He had provided financial advisory more than 500 entrepreneurs and senior management.
During his tenure, he worked as an employee union executive committee member in promoting diversity, including the active participation of foreigners and women in the office, and engaged in activities to improve the working environment. He specializes in financial consulting and VISA/PR consulting.
Gyoseishoshi Immigration Lawyer
CMA(Japanese financial analyst license)
CFP (Certified Financial Planner)
Master of Business Administration in Entrepreneurship
たった3分の簡単入力!
相談してみる
LINE@、WeChatではホームページには書いていないニュースやBlogを配信しています。この機会に是非友達追加を!!もちろんLINE@からのご依頼もOKです!
WeChat
も歓迎します!