Business Plan for getting Business Manager VISA in Japan
Business Plan for getting Business Manager VISA in Japan
Recently, the Japan VISA examination has been tightened, including business manager visas. Therefore, more than ever, the contents, quality and feasibility of the business plan have been assessed by the Immigration Bureau.
As for a while ago, since the poor business plan is not recognized as "business stability / continuity", there are frequent cases the Immigration Bureau is NOT approved.
Also, the Immigration law does not necessarily require it as a requirement, but "Applicant's career" has come to be well identified. Therefore, the relationship between career and business is also becoming important.
However, it is OK to write your business plan that contains the following points.
As an immigration lawyer specializing in business manager visas and a former Investment Banker, the points are summarized below.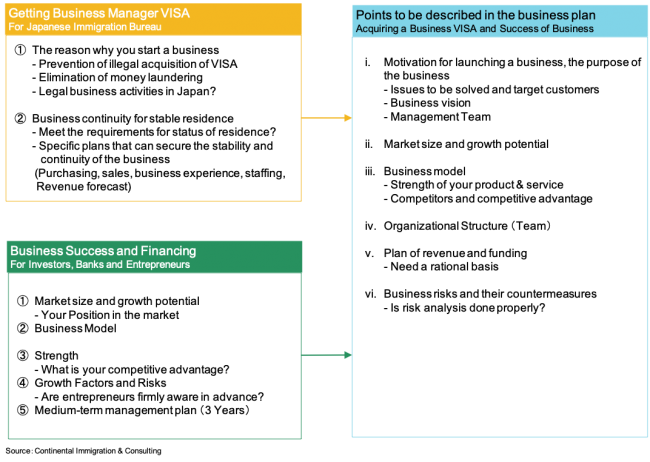 The purpose of Business Plan
The business plan is very important to explain the "business stability and continuity" to the Immigration Bureau in order to obtain your business manager visa. And that's what entrepreneurs need to do business successfully.
The business plan analyzes the external environment and the competitive advantage of the company, and draws out the strengths of the business to be started. And it's the best tool to think in advance how to deal with potential risks and how to raise funds.
Some people say that business plans are not necessary because they are in my mind. However, in the process of creating a business plan, you will be able to brush up your thinking and share the business plan with your business partners and employees. In addition, in the start-up period when funds are needed, business plans are also very useful for explaining to banks for funding.
Contents of business plan
In the business plan, the Immigration Bureau is conscious of "Isn't it an illegal residence?", "Are you really willing to do business?", And "Are you able to continue doing business?" In other words, it meets the requirements of (1) business conditions and (2) business management visa, or (3) stability and continuity of business.
On the other hand, what financial institutions such as banks and investors are aware of is business sustainability. However, because it is important for investors and creditors to make a certain return, it is judged more severe. Immigration does not lose money if business does not go well, but investors and banks lose money.
Therefore, it is possible to submit a business plan with simplified analysis content if there is no plan to raise funds in the near future and it is preferable to obtain a business management visa.
However, in my opinion, when starting a business, it is also important for the eyes of outsiders to see the risks of their own business plans. In addition, even if you have abundant funds at hand, I think that it is better to raise funds even for a small amount for future funding. Therefore, we do not recommend that you create a simple business plan and aim only for the examination of the Immigration Bureau.
I have been involved in investment banking for a long time with securities companies and banks, but when I wrote a report internally, I wrote in the above items. In addition, rating agencies such as S & P and R & I, in principle, do the same in order to evaluate quantitative financial and qualitative business models.
Volume of Business Plan
The volume of the business plan should be approximately 10 to 20 pages with A4 paper. It depends on whether you create it with MS-WORD or POWERPOINT, but it is easy for the reader to understand if it is expressed simply by using graphs and charts as much as possible, and explaining those figures by sentences of a few lines is.
When I was working at Mitsubishi UFJ Bank, the report of the correspondent company was written like that.
Also, it is good to put a summary page on the cover. Because immigration inspectors and financial institution employees look at a large amount of documents every day, it will be tiring to see documents with more than 30 pages or redundant documents with only text. (When I was working at the investment bank, I did too)
On rare occasions, avid entrepreneurs will have more than 100 pages of works on A4. I accept my enthusiasm, but it is good to keep it for myself or as a reference. Documents to submit to the Immigration Bureau, I think that about 10 to 20 pages are good with A4 paper. Because when you explain the business plan to the bank, 20 pages is the limit in 1 hour of interview time.
Summary
By mentioning the issues that the Immigration Bureau seeks, and preparing in the matters that the bank seeks, it will be possible to raise funds immediately after starting the business without being pointed out by the Immigration Bureau. . We will advise & create business plan documents.

Our Professional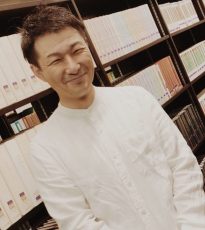 Masakazu Murai
Immigration consultant, Financial advisor
18 years experience in Investment Banking at Mitsubishi UFJ Morgan Stanley. He had provided financial advisory more than 500 entrepreneurs and senior management.
Gyoseishoshi Immigration Lawyer
CMA(Japanese financial analyst license)
CFP (Certified Financial Pllanner)
Master of Business Administration in Entrepreneurship(Hosei Business School)